Maybe you're not interested in doing a high-intensity workout, or the idea of getting back on the stationary bike makes you yawn. That doesn't mean you should skip exercise altogether. You might just need to try a new style of workout: one where you don't even realize it's happened until it's over.
Professor Peter Elwood, a researcher at Cardiff University, has been studying healthy habits for almost 40 years, and he says that exercise is among the best things that people can do to improve health: It may aid in reducing risk of dementia as well as lowering cancer risk, while reducing body fat. We also know that it can alleviate symptoms of depression, reduce anxiety, and improve mood and self-esteem. "It's a change that impacts every area of life," he says. You simply need to get moving — at whatever speed and in whatever style suits you best.
"The benefits of finding something low-impact, enjoyable or fun is that you will be more likely to participate and continue showing up," adds Stacey Davis, a Phoenix-based fitness coach. "All movement is good, especially when you are just beginning your fitness journey. Dancing to your favorite songs or taking a walk can be a great way to get things started. When we begin to get our blood and endorphins flowing, we can't help but feel better."
Exercise, especially of a low-impact and enjoyable variety, has only positive effects, and as Elwood points out, "It's better than any pill, because it really works, and it has no side effects!"
But how do you get going, if you haven't been an avid exerciser in the past? "The best way to get started is to just start! Keep it simple, set realistic goals, and block out that time in your calendar," says Davis. "Try a few things that are different and see what you like the best. The more things you find that you enjoy, the greater your chances are for making your new lifestyle stick."
If you're not already doing regular workouts, consider trying one of these low-impact activities that are fun enough that they barely feel like exercise. You may need to try a few before you find one that really appeals to you — but hopefully you'll enjoy the process. As always, we recommend that you consult with your physician before starting any new exercise routine. And some of these activities will require you to develop new skills, so make sure you are learning them under the guidance of a trained professional.
SUP Yoga

If you think yoga seems dull but you want to increase in flexibility and mindfulness, consider SUP (stand-up paddle board) yoga. That's right, you're doing yoga while on a stand-up paddleboard. The sport is growing in popularity, mostly at outdoor lakes. The premise is simple: You stand on a large board and flow through basic poses. (And yes, you run the risk of falling in, but that's half the fun.) Because of the added balance component, you're getting a full-body workout, but probably giggling the whole way through class.
Calories burned: 300 per hour
Speed Golf
Games like golf traditionally aren't overly active, but in recent years, Speed Golf has come to some golf courses and makes the sport a bit peppier. Rather than driving from hole to hole, golfers are walking or jogging between holes using abbreviated sets of clubs for easier transitions between shots. The winner is decided by a combination of time and stroke count, so every second counts. Bonus: Your golf games will no longer consume your entire Saturday as you speed through the course.
Calories burned: 700 per nine holes
Walking Group
If you prefer gabbing on the phone to sweating it out on a run, that's understandable. But what about swapping a sit-down phone sesh for a long walk or hike instead? Bring your headphones and chat with your far-away family member or friends — the miles will tick by without you realizing. Don't have a willing crew? Use Meetup.com to find a guided virtual walking group.
Calories burned: 300 per hour
Rock Climbing
Work your full body, improve grip strength, and have a blast with the whole family by exploring the sport of rock climbing. Never climbed before? Bouldering in particular is a good starting point, since you don't need a harness or a partner, and you're never more than a few feet off the ground. Use this website to find a bouldering spot near you, and read this REI guide before you head out.
If you're interested in tackling something more challenging, and COVID restrictions allow, you can take a private outdoor climbing class (check out REI's offerings, or a class from Adventure Out). There's no better feeling than working hard to reach the top of your wall.
Calories burned: 600 per hour
Dance Class
Remember when you wanted to be a ballerina? Bring that youthful dream back by taking a virtual dance class. To start, check out this former Broadway dancer's online classes (free one-week trial, then $9.99 per month). You'll be able to embrace your creativity (and maybe even get your groove back!) while burning calories. Perhaps you'll even enjoy your new hobby so much that you won't even realize it's a workout. If structured classes don't intrigue you, blast your favorite hip hop songs and get to freestyling in your living room.
Calories burned: 225-500 per hour
Rollerblading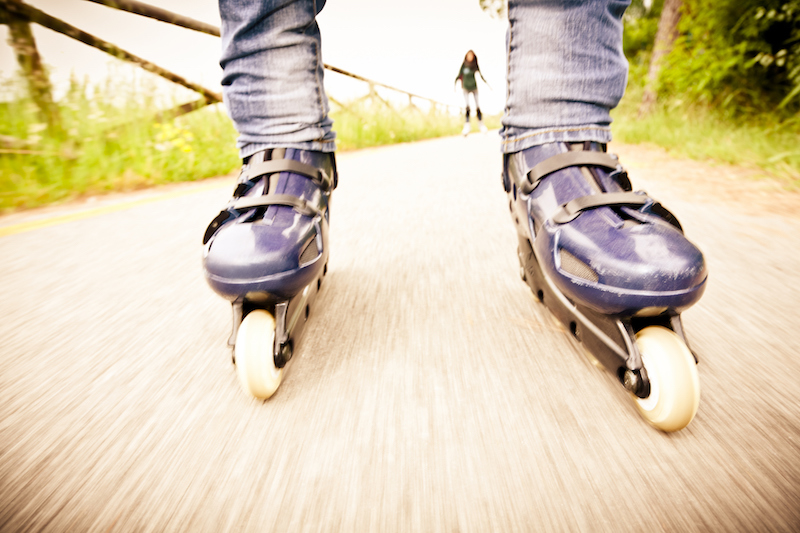 Like many of the bizarre '90s trends that have found their way back into the cultural zeitgeist, this early '90s fitness craze always seems on the verge of a comeback. It might feel a little silly at first, but think of it as retro cool. The hip cousin of roller-skating, in-line skating allowed ice-skaters to use a similar movement on wheels versus skates. It's one of Davis's favorites for low-impact exercise, since you speed along without taxing joints the same way that you would while running. At the same time, you're engaging your core and legs and can get a full-body workout — and it's easy to pick the pace and effort level that works for you.
Calories burned: 500 per hour
Self-Defense
Learning how to protect yourself is a great skill in any situation — and it counts as a workout, too. Start with this 30 minute Krav Maga workout (free on YouTube) to learn some basic moves. Or, check out this written guide on a self-defense-inspired workout, which has options to make each move easier or harder.
Calories burned: 590 per hour
Aerial Silks
"Exercise has to be fun to make a lasting impression. So, make it a priority to find fun, low-impact exercises to include in your regular fitness program," says Mickie Carter, a former personal trainer, physician's assistant, and owner of One Strong Southern Girl. Aerial silks certainly fill the bill. Imagine yourself suspended from two long flowing silky ropes, spinning with ballet-like grace. Aerial silks classes can range from yoga-based moves to Cirque du Soleil-inspired routines. Both can work your core from every angle. "Low-impact exercise is a great way to get all the best benefits exercise has to offer while giving your joints a little holiday from the pounding they often take during intense, high-impact fitness," she adds.
Calories burned: 320 per hour
Note: All calorie counts are estimates. Actual calories burned depend on many factors, including body weight and the level of workout intensity.
Copyright (C) Rally Health, Inc. All Rights Reserved.
Molly Hurford
Rally Health