As the days get longer and warmer, it's time to take your workout into the open. Research shows that outside activities don't just offer a break from the monotony of a winter's worth of machine workouts, they may actually increase your effort, and improve several measures of well-being. Besides, being outside is also really fun.

There's a body of research suggesting outdoor walkers and runners see a wealth of additional benefits over treadmill users, including improved mood, self-esteem, energy, and pleasure, as well as decreased frustration, worry, and tiredness. Some research suggests that outdoor exercisers may enjoy their exercise more and therefore work out longer and more frequently than indoor trainers. And outdoor workouts often require more exertion, due to wind resistance, terrain, and other factors difficult to replicate indoors.

"You potentially can get more intense physical activity if you're doing it outside," says Jacqueline Kerr, associate professor of Family Medicine and Public Health at San Diego State University. "The intensity of the activity is greater, and the time that you do it for is longer."

In one study, Kerr's research team found that older adults who exercised outdoors tallied more total time being physically active. In another study, Kerr and her colleagues tracked 117 adults in retirement communities with accelerometer and GPS devices to see when and where they were active. They found that those who spent the most time outside, and the most time being physically active, had the best physical and mental health outcomes.

It's not totally clear just how all these extra benefits accumulate, but there are plenty of possibilities. Exposure to vitamin D from the sun improves bone density, though one also must be careful to limit the risk of skin cancer. Midday light may also help regulate melatonin, Kerr says, which can in turn improve sleep. And outdoor exposure may also have positive effects on the microbiome, the collection of beneficial internal organisms that can influence our metabolism, among other things. And the social engagement from interacting with people outside is another driver of these benefits.

Part of the effect, Kerr says, is the distraction we face outside. We meet people and see picturesque scenes. Think about it: If you were hiking in a beautiful park, wouldn't you be more motivated to push yourself longer to see the view from the top of a hill than if you were just logging intervals on a machine?

There's no reason to give up your gym membership. "If you've got an exercise regime that works for you, and it's indoors, then stick with it," Kerr says. But, if you are looking for something new to try, "physical activity outdoors should give you more benefit."

If you want a new outdoor adventure, here are some to try: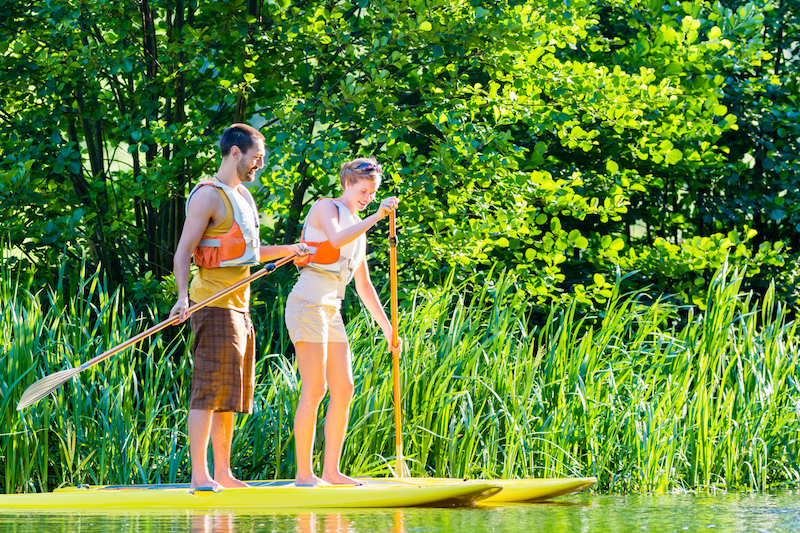 Stand Up Paddle Board
Workout: You'll work your whole body using your arms to paddle, your legs to balance, and your core to stabilize. Research shows that you could burn around 400 calories an hour. However, you may need to push it harder than most to get a full cardio workout. Better yet, hop off the board for a swim to log some cardio time. And you'll benefit from the meditative effects of floating over a calm body of water, a relaxing environment that is impossible to duplicate inside.
Equipment: Obviously, you'll need a board and a paddle, which are available to rent. You should also get boardwear that provides protection from the sun.
For more information: The Standup Journal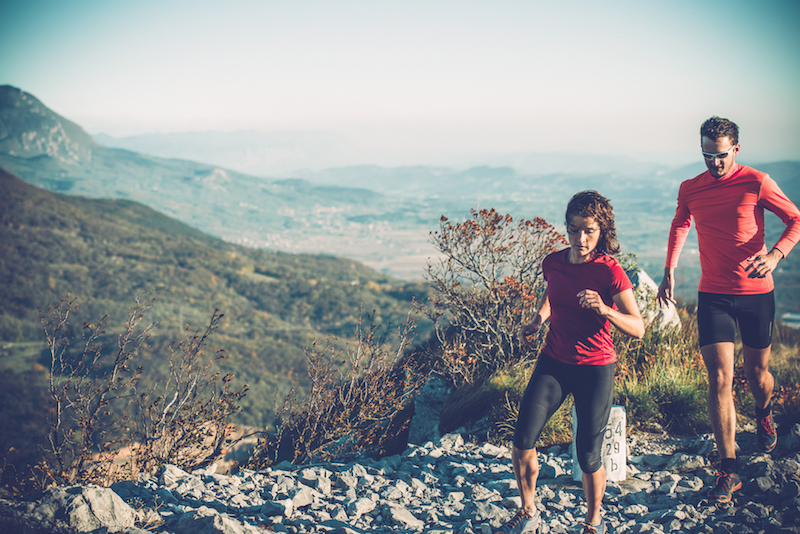 Trail Running
Workout: Trail running is a staple training exercise for Kenyan runners. Running is the gold standard of cardiovascular exercise, and trail running also improves strength and balance by pushing you to run up and down hills and over uneven terrain. Running downhill, for example, works different muscles and is hard to simulate on a treadmill. Ease into it; try trails you know well in good weather conditions and take on new challenges as you get comfortable. Enjoy your surroundings, but not while you are running. Walk for a bit to take in the sights, and focus on the trail while running.
Equipment: Consider trail running shoes; light, ergonomic sunglasses to protect your eyes from sun, or an unexpected branch; and a bottle belt or hydration backpack. Trail running poles are also an option, especially for distance running.
For more information: Runner's World, "21 Quick Trail Running Tips"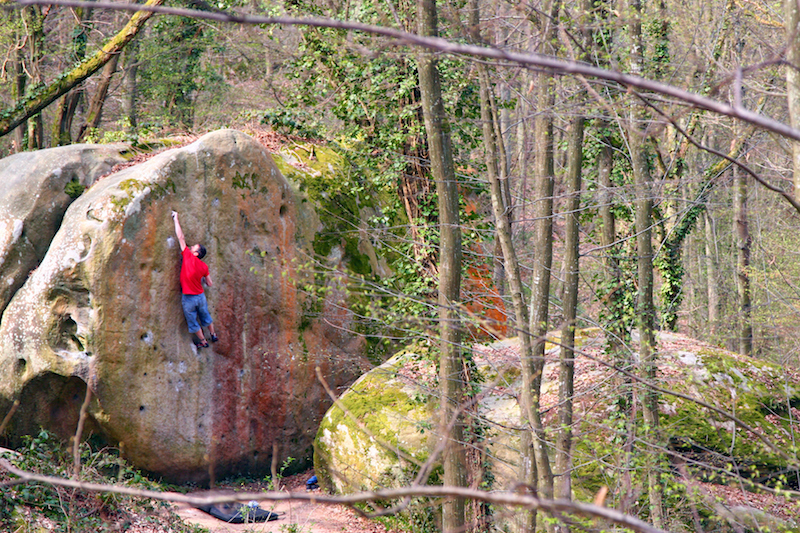 Bouldering
Workout: Bouldering is a fairly basic form of rock climbing, which works your entire body. Lifting your own body weight will strengthen your arms, legs, and shoulders, and you'll work your core as you stretch to new positions. Bouldering is done on smaller rocks or boulders that you can easily jump down from should you need to. And you can usually find rocks to climb that are accessible by car or by a short hike. You do need some training and a group of other experienced climbers, so look for a climbing group near you.
Equipment: You don't need the harnesses, ropes, and other advanced mountain climbing hardware. You will need: rock shoes; a pad for landing; some chalk and a chalk bag used to improve your grip; brushes used to clean the holds; and finger tape.
For more info: Bouldering for Beginners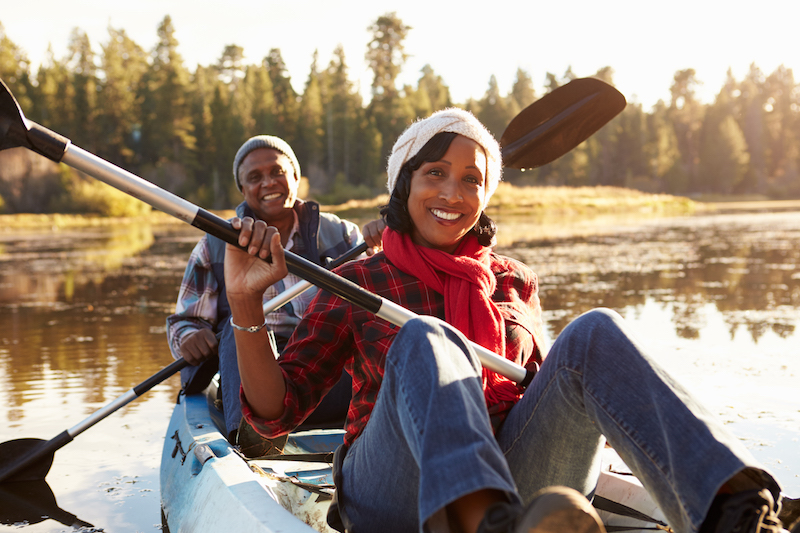 Kayaking
Workout: Kayaking is unique in its ability to build upper-body strength while providing a great cardio workout. And there's no better way to explore the natural environs of rivers or wetlands than to perch just above the water on a kayak. Your shoulders and core are working constantly, and your legs are activated too, for stabilization. You can do it in almost any body of water, from the open ocean to the narrowest stream. But start with a guide to learn safety and technique.
Equipment: You'll need a kayak, which can be rented, along with a life vest, water shoes, and extra clothes in a dry bag. Kayaking without a guide requires some extra safety gear, such as flares, and communication devices, like a marine VHF radio.
For more information: Canoe & Kayak, "Paddling Safely"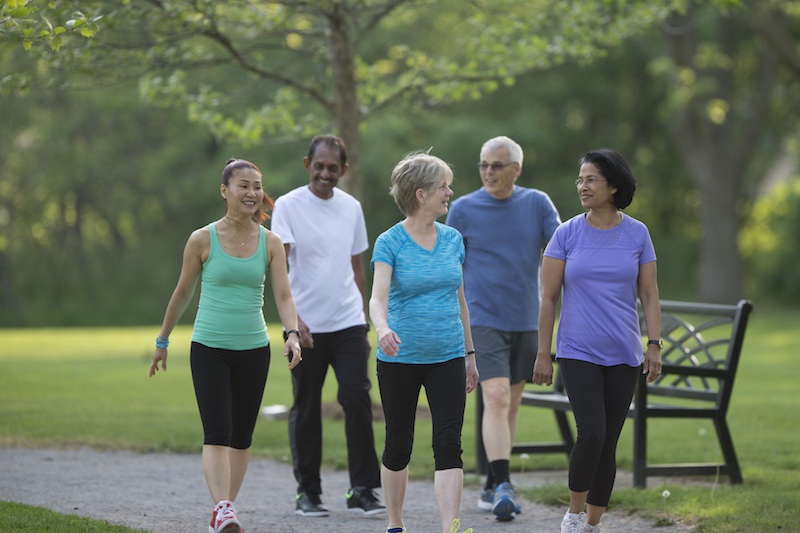 Take a Walk in Your Neighborhood
Workout: Walking is a good physical activity for people at almost any fitness level, and a great way for families to exercise together. If you work out in a gym, adding a walk can be a bonus activity to get you closer to that goal of 10,000 steps a day. For people who don't meet the minimum recommended physical activity levels of at least 150 minutes of moderate physical activity a week, walking can be good a way to get there. And strolling through your neighborhood can have strong social benefits as well. Talking to neighbors and others in the community can help you feel better and build stronger connections.
Equipment: None required!
For more information: Step it Up!

Selected References
Environmental Science & Technology; "Does participating in physical activity in outdoor natural environments have a greater effect on physical and mental wellbeing than physical activity indoors? A systematic review," Thompson Coon J, et al; March 2011.
The New York Times, "The Benefits of Exercising Outdoors," Gretchen Reynolds, February 21, 2013.
Kevin McCarthy
Rally Health